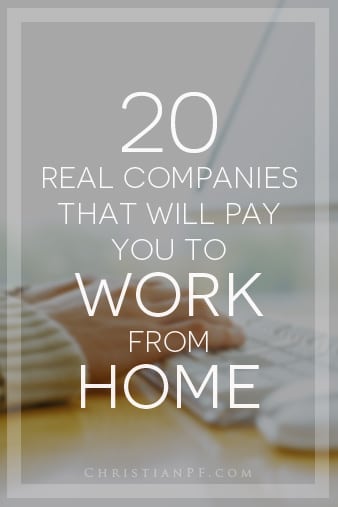 You don't have to own a business to work from home.
Although there are plenty legitimate home-based businesses you can start, existing companies will pay you to help theum from the comfort of your own home.
So get your home office set up, here are 20 real companies that will pay you to work in your slippers.
Real Companies that Will Pay You to Work from Home
Many big companies are looking for feedback about the usability of their website.
This is where Usertesting.com comes in. You sign up for free and then answer questions about a particular website, explaining what is good or bad, confusing or clear, etc. and then you get paid.
You have to be accepted into the program and must be 18+, but the payouts are pretty good! Their current payouts are $10 per test and the tests normally take about 20 minutes.
Looking for something easy to do to make a few extra bucks? E-Poll lets you take surveys in exchange for money in your PayPal account or gift cards in your wallet. You'll receive e-mail invitations to take surveys, earn points, and redeem! Simple and easy. If you're wanting some free stuff, try out Swagbucks.com (see our review for more info).
AirBNB is a site that allows you to rent out your home to other people who may just want to visit where you live.
You can rent it out as little or as much as you want and can list it to rent by the night, week, or month. They offer a $1,000,000 guarantee to protect you from any kind of property damage that was caused by renters.
They also have a renter rating system, so you can choose whether or not you want to rent it out to a particular renter.
Not sure if you've heard, Lyft is an app that basically eliminates the need to ever call a taxi. Instead of calling a cab, you just click "request driver" and then a Lyft driver gets a notification and comes and picks you up.
The service is way faster than calling a cab and is about half the price.
I say all that to say that as a driver for Lyft, you use your own car, drive only when you want to, and (according to the website) get paid $35/hr to pick people up and drive them around. This is a great way to make some extra money on the side.
Shipt is an on-demand grocery delivery service looking for reliable, independent people to shop for groceries and deliver to their members.
They aren't available in all states yet but as a Shopper, you can make an average of $15-$25/hour, be a part of an exciting start-up and set your own schedule.
To be a Shipt shopper, you must:
Be at least 18 years old
Have reliable transportation
Have a current Driver's License
Have knowledge of produce selection
Agree to a thorough background check
If you have at least two years of experience as a medical transcriptionist, this job is for you. You can become and independent contractor medical transcriptionist! You'll receive competitive pay rates, premium weekend and holiday pay, and best of all: you'll be able to work from home!
If you have a graduate degree, consider joining Brainmass.com. Brainmass uses online teaching assistants to help students solve all kinds of problems. How do you get paid? Students purchase credits to have questions answered, and as a teaching assistant, you'll be paid a portion of the credit, this portion increases after you've given 10 responses!
Want to transcribe non-medical information? You can do so with Speak Write! Take one hour shifts where you simply type out spoken audio. Fast typists can earn upwards of $3,000/month ($300 average monthly earnings)! This is a great opportunity for college students; pick your own hours and have a flexible job!
Want to complete tasks other than writing or communicating as a customer support representative? Try becoming a "looker!" You can perform tasks online and off. It's a simple sign up process. You will be offered online training and support with industry-leading pay.
If you're a bookkeeper and/or a CPA, this is a great opportunity for you. Bookkeepers must have at least 2 or more years of bookkeeping experience, and CPAs must have 5 or more years prior public accounting or controllership experience. You'll be able to work remotely from the comfort of your own home.
11

Chegg Tutors

If you're looking for a flexible tutoring opportunity, this opportunity may be for you. As an online tutor you will virtually connect with students and teach them right from home. Chegg tutors start out at $20/hour.

If you would like to find jobs you love at rates you choose that fits your schedule, TaskRabbit may be for you! Real people hiring real people to help with tasks. From setting up a bookshelf, to cleaning, to personal assiting etc, there are tasks for everyone. Become a tasker today!

Do you love giving advice? Of course you do! You probably do it all the time right? Well, why not get paid for your advice? Clarity Consultants works with clients and consultants to bring them together.

Use a webcam and messaging clients to tutor students with homework. Current opportunities include jobs teaching engineering, history, and law. However, you can suggest a subject that you want to teach. You will be connected with students that can use your help . . . easy, easy!

If you have a passion for customer service but are not a fan of the call center environment, work from home with Convergys. They have three basic types of work at home positions. You will get full benefits, paid vacation, paid training and more.
16

Leapforce

Leapforce is a unique company that hires Google Raters to evaluate search engine results. As an independent contractor, you can work as much as you are able: part-time or full-time. You're guaranteed a competitive, hourly pay.

Do you like to take pictures? Are you a budding photographer? Get paid for your photos. Simply upload photos and earn money. When your picture is purchased from your online portfolio, you split the profit 50/50 with Foap. Which you'll earn about $5 per photo purchased.

Become a delivery partner with Amazon. Amazon Flex gives you flexibility, you set your own schedule and you'll be your own boss. This opportunity does require you to leave your house to make the deliveries though. More than 50 cities across the United States have Amazon Flex opportunities. Make $18-$25/hr delivering packages for Amazon!

Arise has many unique opportunities. Customer service, sales, tech positions, and Mac owner opportunities exist – all of which can be worked from home. You'll be working for major brands through Arise, and joining over 25,000 independent client support professionals.
20

GoFluent.com

Speak multiple languages? Teach what you know! Applicants to Go Fluent must be native English speakers and prefers them to be fluent in French, Russian, German, Italian, or Japanese.

As you can see, there are many real companies out there that will actually pay you to work from home. Some are undoubtedly better than others, so choose wisely and pick the ones that best fit your lifestyle and skill set.

Do you like to make a difference? Make money while you make a difference. Field Agents collect information via their smartphones to help companies better serve their customers. Depending on the task, agents can earn up to $12 per task.

Be a part of the virtual call center workforce. You get to choose the work that fits your skill. They pay per-talk-minute rate, so you will earn more with the more calls you take. Liveops agents earn incentives as well from sales commissions and fun contests.

If you're nearing retirement or if you have retired recently but want to extend your career working from home, check out Wahve. Companies are looking for "vintage experts" to meet their work needs. Wahve specializes in insurance and accounting needs. By becoming a Wahve, you'll have the ability to negotiate your hourly rate.

You can be paid member of a legal focus group. These groups provide feedback on cases of all sizes. Online jurors review and respond to legal cases. Payments are made via check, once a month.
25

Upwork

Become a virtual assistance freelancer at Upwork. Jobs are posted, freelancers bid on jobs and get paid! You choose your hourly rate, those who have provided virtual assistance through Upwork have earned up to $60+/hr.
26

VIPKID

Use your teaching skills to teach Chinese children English as a part-time tutor with VIPKID! You can earn $17-$22/hour and a bachelor's degree in any subject is required.
*BONUS*
Calling all music buffs! If you could use some extra cash (this will not replace your full time job) and be introduced to new music, this is a great option for you. Music fans get paid to listen to new songs. These songs will arrive in your in-box and you'll get paid to listen to them. You earn $0.10 every song you listen to for 30 seconds, which means you could potentially earn up to $12 an hour.
What are some other companies you know about that will pay you to work from home? Leave a comment below and let us know!