If you have never gone thrift store shopping, you are missing out on one of the great joys in life! I think I first started hitting up thrift stores as a teenager looking for unique and vintage clothes.
It often is like searching for a needle in a haystack, but if you can enjoy it for what it is, rather than viewing it as an inefficient way to shop – it can be a blast. Oh and of course you have the pleasure of knowing you are providing funds for the charity behind the thrift store as well as helping out the environment.
While I do still peruse the clothes sections once in a while, the last couple years I have been interested in finding unique decorations and furniture. Two years ago we created a bedroom set from vintage pieces we found at thrift stores. We found a set of two dressers for $120. We found a nightstand for $25 (see picture to the right). And we built a headboard for the bed for about $40. We cleaned them all up, bought a can of paint, and voila – we had a matching bedroom set (that we loved) for about $200.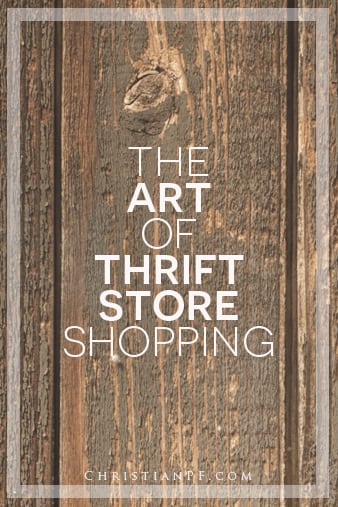 Make a date of it
A while back I wrote an article called 10 free dates your wife will love – and I didn't have this on there as one of them, but I should have! Linda doesn't like camping with me anymore because I made the mistake of taking her on a night when it got down to 40 degrees – apparently she is scarred 😉 , she doesn't seem to like playing tennis with me anymore either, but she does like going thrift store shopping with me.
A date doesn't have to have a dinner and a movie involved. Just the two of you spending time together seems to be the more essential component – right?
You can make the whole trip a treasure hunt to find that one special thing you have been wanting. Or you can make it a challenge to see who can get the most goodies for $10.
How to plan out a shopping trip
Since every thrift store has a different inventory and it may be a challenge to find what you are looking for at the first store, you should visit a few of them.
This will display the local thrift stores in your area nearest to you.
Click the "Get Directions" link and then click "Add Destination" a few times. Enter your addresses in the "A Box" and copy and paste the thrift store addresses into all the other boxes.
3. View and adjust the Map
Google will provide you with a map taking you to your destinations based on their proximity, rather than the order you entered them in. This is great because you don't have to figure out the quickest way to visit them all, the work is done for you. If you want to remove a location, you can just delete one particular address and the map will adjust accordingly.
Our recent Goodwill trip
We just found another gem the other day (for $35) that I am excited about. We still need to clean up the hardware and give it a coat of paint, but I see some real potential…
Oh and I should mention that even if you aren't into the vintage thing that I am, there are often contemporary things that get donated as well. You can also find tons of books, CDs, just about every electronic device created 5 years ago and earlier, lamps, wall art, decorations, kitchenwares, kids toys, clothes, and the list goes on – you never know what you will find!
Other thrift Store websites to check out: Salvation Army, Goodwill, ARC thrift stores.This article was originally published on 08-04-09.
Do you ever shop at thrift stores? Have you found any great bargains?