The first way save money on your wedding is the most important: you have to want to save money. I've noticed in the past few years that some things are worth paying for, and some things are not. But just because you don't pay for something doesn't mean you can't get great results (and sometimes better results) by using your creativity. Here are a few simple tips if you are planning a wedding on a tight budget. They all involve creativity, so open your mind and get creative (or call you sister or friend or aunt in the room to help you out).
1. Do it yourself.
When Bob and I got married, we made our own invitations and mailed them ourselves. We printed out everyone's names and addresses on the envelopes and just made it happen. Our wedding was a less formal (which we'll talk about later) so making them in Word worked fine for us. But what are some things like this that you can do yourself? Flower arrangements? A friend of mine had all her bridesmaids over and they all made their own bouquet. My sister ordered candies and boxed them herself and gave them as favors.
2. Use the people you know to help you.
One thing I noticed when Bob and I got married is that there were so many people who wanted to help us. Some knew we were planning it with a tight budget and some didn't, but it was almost overwhelming how many people wanted to help us. And it made me want to help anyone I can in the same way. I thought I shouldn't take anyone up on their offer, but now that I'm on the other side of it, I see it differently. Let people help you!
For instance, if you have a friend who is a graphic designer (or even knows how to use design programs), see if they'll help you with your invitations. Then, go print them on paper you pick out yourself and buy for a much lower cost. You can do this with anything: your band/DJ, photographer, centerpiece design, food, etc. And what's wonderful about this is you get to let others in on your life, and that is so valuable!
One of the most beautiful weddings I've seen was one where everyone pitched in. Below are some pictures to show how beautiful they can be.
Wedding Example #1:
The ceremony was held indoors at a park clubhouse. As you can see, it was beautiful. My friends grandmother made her homemade canoli's for dessert!
They had lot a bird theme and these were their favors – hand made.
The centerpieces were made from items found at thrift shops, the lace table cloths were found at vintage shops. Each table was different, unique, and so beautiful! There were also branches of a birch tree on each table, coming out of vintage vases. I've never seen centerpieces so beautiful!
Since they got married at a park, there were some amazing photo opportunities! Can you believe how beautiful this is!?
Wedding Example #2:
This backyard wedding has an amazing view, as you can see. They had friends and family participate in their ceremony by holding this beautiful lace above them. Easily removed to make more space for the guests after the ceremony was over, and it added such a personal touch!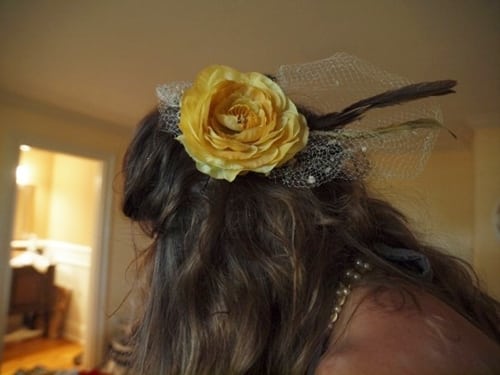 She and her bridesmaids did their own hair (Here's a simple tutorial for a low messy bun)! And these beautiful hair pieces were made by a friend.
Don't you love the way the lit up the night? And check out these chandeliers they made:
They are mason jars hung from trees with candles in them. AMAZING!
3. Think about your location.
I used to work for my church, so we got a great deal when we got married there. But, not everyone has that luxury. A friend of my got married at a beautiful clubhouse in a park. Another friend got married at the entrance of her aunts house. There was a fountain and it was absolutely beautiful. And that was free!
I also knew someone who wanted to get married at a very expensive location. Upon further investigation, he found out that if he got married on a Sunday instead of a Saturday, the price dropped dramatically.
4. Redefine your idea of a wedding altogether.
Bob and I had a wonderful, tiny wedding. We invited our immediate family only, plus grandparents, and each had 1 friend. My brother, a wonderful musician, played piano as I walked down the aisle, my brother-in-law video taped, and Bob's friend took the photos. It was an amazing day for us to spend with the closest people to us and there was no stress because it was so small. We wouldn't have had it any other way. We went to lunch after and had a small reception a month later (which we made the invitations for) and it was absolutely perfect for us. I don't recommend this for everyone, but I do recommend everyone think about how they can make their special day reflect them as much as possible. If that means having a big wedding, great! Hopefully some of my tips will help. 🙂 But I hope to at least inspire some of you to think of wonderful, original ideas to save some money and make your wedding a day you'll never forget.
There are so many creative tips for planning a wedding on a budget, and I know everyone has learned at least a few, so please share them in the comments section below.
Photos by Gertrude Bell